MeterKeys is operated by FT&T Security Locksmiths based in beautiful Forster, NSW. FT&T Security Locksmiths operates under NSW Master Security Licence – no. 000 103 755 and is owned by John  Daniell (ABN 74 623 246 935).
John is a 2A licensed Security Consultant (Class 2ABC # 407 557 492) holding qualifications in security risk management. John also sat on the Security Licencing Advisory Council (NSW, SLED) as representative of all NSW Locksmiths (2015,16)
In 2013 FT&T were awarded the tender as sole supplier of consumer locking products for the Essential Energy network.
FT&T Security Locksmiths P/L is a family owned business that has been providing security solutions to locals in the Great Lakes and Manning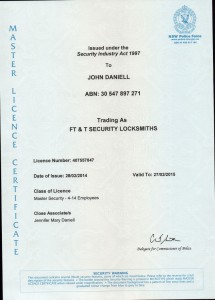 regions since 1988. We operate from two workshops – the main workshop and head office is at 1/32 Kularoo Drive Forster, and our other workshop is at 69 Whitbread St, Taree.
Essential Energy takes the security of their customer's assets seriously, they have commissioned an Australian produced restricted "broach" and key design that ensures that illegal copies of keys to your meter box cannot be made. Keys and locks can only be supplied through licensed Locksmiths who are part of the project, and meet the criteria required to perform at high levels of integrity.
We encourage you to take a tour of this website to purchase your locking solutions, if you have any questions you should call 1300 736 236 for assistance. We have well trained locksmiths on hand to advise you and offer the best possible solutions.
Be aware that most of the equipment in your meter box is actually the property of Essential Energy – the meters, live side wiring and the "fuse block" – when a meter reader attends your site to read the meter they also inspect the installation to ensure it is safe and up to standards. Tampering with these installations is a recipe for disaster, only trained staff should access these areas. This is why the meter readers carry a Master Key to open your box, all Essential Energy emergency workers also have the ability to open your meter box for emergency repairs or routine maintenance.
If you have any questions about this, we would encourage you to visit Essential Energy's website (www.essentialenergy.com.au) or contact them on 13 20 80.
If you have any suggestions about how we can make your experience using this site any better, please fire off an email to sales@meterkeys.com.au, mark it to the attention of John Daniell.